---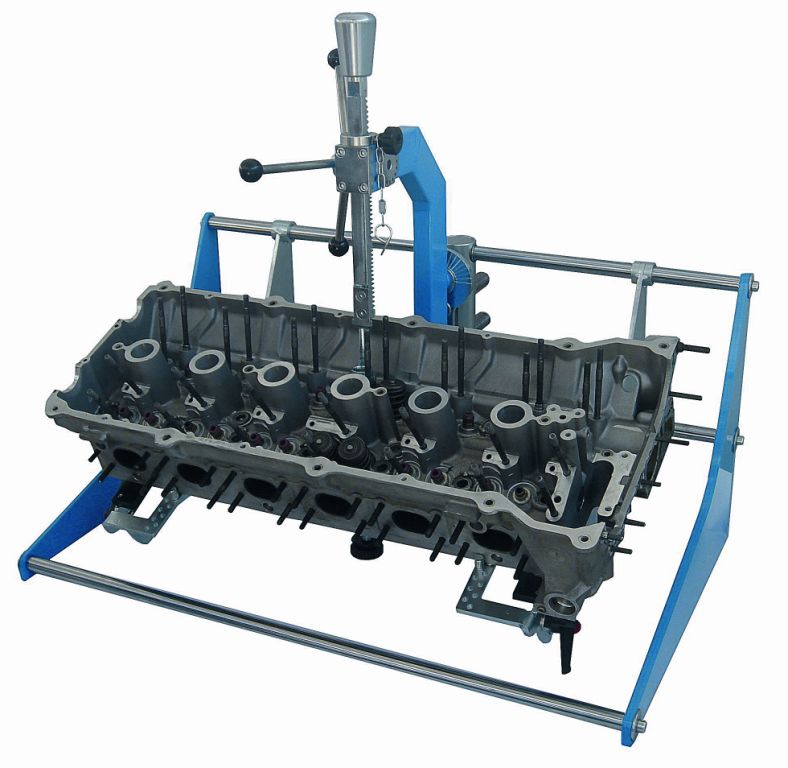 NEW - Engine Reconditioning - Cylinder Head- Head Bench - MADE IN ITALY
$ Please Call
For shipping costs and to order, please call
(03) 9310 1222
ENGINE RECONDITIONING - CYLINDER HEAD- HEAD BENCH - MADE IN ITALY (315019000)

Description :

Manual bench complete with 3 pressure feet with adaptors. ACCESSORIES INCLUDED.

The two head supports are implemented with non-scratch plastic material and are adjustable from 0 to 30°. There are two handles for locking when the right inclination is set.
It is also possible to regulate the horizontal position of the head moving the pins to the apposite holes up and down. There is a long regulation also for the push rod in case of deep valve chambers. The frame can be rotated 30° on both sides.

Moreover can be regulated also forward and backwards. In case of valves locked hard into the seat, hit on the slide hammer on the top with a plastic mallet. The bench is also provided with a travel limit device that guarantees the same stroke for each valve.

Meanwhile the valve spring is compressed, the operator can block the position using the apposite pin. Consequently he can work on the valves having both hands free.

Dimensions: 785 x 500 x 625 mm
Stroke: 265 mm
Cylinder head: 750 mm
Length: 185 mm min.
Inclination angle = 0° - 30°
Total weight: 25,5 Kg
---
Warranty:
Unless otherwise stated, all products are sold under the manufactures warranty terms and conditions from the date of purchase.
Where a warranty fault has been recognized and accepted by SAE, shipping expenses will be refunded.
Replacement products (including shipping) will be provided where:

An item is damaged during delivery.
The incorrect item was shipped.
The item has a manufacturing fault.

Replacement will be provided upon receipt and inspection of items that are deemed faulty or incorrectly supplied.
Exchanges will only be provided on products that are unused and in a salable condition (i.e. in original and undamaged packaging). Electrical components cannot be returned if packaging seal is broken.
If you receive an incorrect or faulty product please contact us within 48 hours of delivery.
For any replacements where the shipping expense is being covered by SAE the original shipping address will be used.
SAE is not responsible for any costs or down time incurred by a manufacturing fault other than shipping expenses.
Shipping:
We ship domestically within Australia.
Goods are typically dispatched within 24 hours after payment has been completed.
Deliveries are made during business hours Monday to Friday.
Where possible items will be combined into one order, however in some instances you may receive multiple deliveries.
Where possible tracking numbers will be provided.
Delivery times are 2-5 days for standard shipping to east coast metropolitan cities. WA, regional and remote areas may take longer.